POP. LOCK. OR DROP.
You don't need to work in the retail industry to understand that it's rapidly evolving. You wouldn't even need to shop or purchase anything to understand that retail scene is affected by not only the economy but the way we are living.
From marketing and technology, to the need for convenience and the 'now' factor, retailers across the globe are evolving their way of serving and reaching their customers... And one of those ways is with the hype of Pop-Up Shops; A temporary space in which brands are able to promote their product, engage with influencers and target a specific audience for that 'here today, gone tomorrow' desire, all with the flexibility of time and location.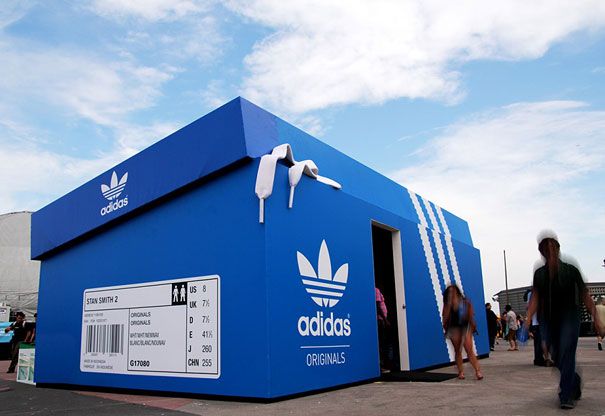 All of your favorite big box retailers have done it from Nike to Target, Nordstrom and Louis Vuitton to celebrities such as Yeezy, sister in-law Kylie and even Drake. More and more retailers are looking at it as a savvy investment to the otherwise money sucking department scale locations and timelines. So it's obvious the concept isn't new, but the way it's rolled out is constantly challenged to be a creative and lucrative business and we know someone doing just that...
Meet Brittany Reilly...
Boho babe and #GirlBoss running Bohemian Groove [ On The Move ]. Her traveling Air Stream boutique is what every free spirit dreams of and we caught up with her to learn what's groovy...and not so groovy about running her own mobile retail business.
BoheMIAN GROOVE...catchy name! Where'd it come from?
One of the most important things about a company in my opinion is its name, it has to be catchy and it has to be memorable. I originally had a name that I absolutely loved and thought would be the perfect fit. However, when I went to go LLC the name, it had already been taken, along with all of the social media. When I found this out, I was so upset and thought I would never be able to find another name that I loved just as much. One day I was at work during my lunch break and I was just brainstorming and writing words down on a piece of loose leaf paper. Mixing and matching different words together. Then BAM! Bohemian Groove was formed.
I knew as soon as I found those two words together, that was it. I immediately went home straight after work and made sure I LLC'd it and grabbed all the social media with Bohemian Groove in it. I am even more in love with Bohemian Groove than my first choice. So I take it as a sign that my first name didn't work out. Plus who doesn't love anything groovy?
How did your venture come about?
I was a recent college graduate from LIM, working as a Personal Shopper in Manhattan. I became very bored and uninspired with everything around me. I was tired and drained working/ interning for all of these fashion companies who treated me like I was disposable. It felt as if all my hard work and dedication always went unnoticed. I began seeing Mobile Retail stores pop-up on the West Coast and I was obsessed with the idea of bringing one to New York. At this point, I saw a few around the tri-state area, but I knew if I were to create one it would be something completely different.
Bohemian Groove was born after I found the perfect 1972 Airstream to begin my amazing Mobile Venture. However, it needed tons of TLC and about a year of renovations to make it into the "dreamstream" as I call it!
WHO DID YOU ENTRUST TO COMPLETE THE RENOVATIONS OF THE AIRSTREAM?
The 'Dreamstream' was renovated by Nomad, [ the largest Airstream customization facility in America ] located in Plattsburgh, NY. Their designer Andrea was basically my Soul Sister and helped make everything I wanted done possible. She was beyond amazing.
WALK US THROUGH THE inspiration behind launching Bohemian Groove as a mobile venture rather than a brick and mortar?
The main reason I launched Bohemian Groove as a mobile store was because I wanted to travel. Whenever business is not good or its low season in New York, I can literally pick up my store and go to warmer climate and still open up shop. It's also great for branding and advertising. I have my logo, and my social media tags on the exterior of the Airstream, so people know where to find me. Some customers will even follow you to wherever you go, so thats pretty cool! I've had people reach out through Social Media when I've been traveling on the road, saying "Wow, you just passed me on the L.I.E, your Airstream is awesome." I've had someone else also ask me "Where are you guys headed, I'll meet you there" and she actually showed up!
Also, to rent or buy a store front anywhere in New York is absolutely absurd. I felt the better long term investment would be to buy a trailer, renovate it, and hit the road (with basically no overhead.) Eventually, when I settle down, I will still be able to use the Airstream for personal use or maybe even an Airbnb.
In the far future, I plan on having a permanent location but I just don't know when or where yet!
What research did you do to prepare yourself for launching your own boutique?
So the funny thing is, I had absolutely no business plan. Everyone reading this probably thinks thats crazy. How do you launch a business without a business plan? [ You're not alone, girl! ] The mobile business is very "new" to the world of fashion so you can kind of do whatever you want to do. Build it out of box truck, a vintage truck, or a storage container...
Basically, I researched other mobile boutiques across the country to see how they got started. I made sure I found ever possible article and prepared myself for what I thought would be the most difficult parts of starting a business. There is also a great company called American Mobile Retail Association that does webinars with current mobile boutique owners. I also reached out to other #girlbosses that I knew started their own mobile boutiques and asked for their advice on certain things!
SINCE THIS ALLOWS YOU TO BE MOBILE...WHAT DOES IT LOOK LIKE SCHEDULING your travels?
Prepping locations and schedules takes a very long time. Time management really does come into play here. I started planning my Spring/Sumer schedule in New York at the beginning of February. Thats normally when all the markets and festival dates are released. However, you still have to wait to see if you are accepted to the ones that you have applied to and if not you have to try and find something else.
I am constantly looking for new events and new markets within the tri-state area. Its better to apply for multiple ones, to have options and then figure out your schedule out from there. Since launching in May, my off season starts at the end of November and ends probably at the end of March. This time next year I will be down South in Florida where the weather is much warmer and it's their high season!
HOW OFTEN DOES YOUR PRESENTATION AND PRODUCT EVOLVE?
The merchandise and presentation in the Airstream changes every time I do a market. I curate the merchandise of Bohemian Groove through brands that I've found through my years in the industry. However, I am always looking and searching for new and evolving brands that I feel fit the Bohemian Groove vibe through Social Media, people watching and a lot of non-stop research.
The Airstream boutique is 27ft so I have a good amount of space to play around with. I have displays outside too which help draw people inside. You'd actually be surprised at the amount of people that do not really understand the concept of having a full store inside equipped with a dressing room in the Airstream.
LAST BUT NOT LEAST...WHO HAS BEEN YOUR BIGGEST CHEERLEADER and INSPIRATION through this?
A lot of my inspiration has come from my dad and grandparents. When I was younger they always allowed me to be my own person. That meant if I wanted to wear head to toe tie-dye (which I did) they would let me rock it, if I wanted to wear pajama pants out, they would allow that. They always encouraged me to be myself and never got upset at me for being different.
My dad has been a HUGE help and a huge influence on my business. He gave up his days off and came with me to every event and market I did this past Summer hauling the Airstream for me. I also get a lot of help from my best friend Jamie. She comes to markets and events whenever she's available and does all the photography for Bohemian Groove [ Side Note: Brittany's the model babe ] Down the road, I hope to bring her on as a business partner because she adds so much to Bohemian Groove. We work extremely well together and think we would make an amazing Girl Boss team.
|| You can follow Bohemian Groove on Instagram or Facebook ||